Following the retail frenzy of Black Friday and Cyber Monday, your company stands to gain from a tailored social media campaign which brings the holiday cheer to consumers.  Starbucks has created its "Starbucks Holiday Village" as an interactive experience where customers can send gift cards to friends, and share holiday experiences and pictures with their social networks. Target enhanced their consumer experience by creating QR codes for its seasonal products. You too can ride on the coattails of the holiday season and boost your brand's recognition with a few tweaks to your company's social media strategy.
Go Mobile
Drive communication between you and your customers by developing a mobile application which promotes social sharing, as well as offers discounts and promotions. Allow your customers to share wish lists, gift ideas, photos, videos, and social updates as part of their holiday storytelling process. OfficeMax has announced its "ElfYourself" mobile app which integrates social media by allowing customers to share holiday greetings through email, Facebook and Twitter.
Go Festive
Create a holiday graphic for your Facebook Timeline cover to draw your viewers' attention and showcase your company's relevance. Express has done a good job in creating an overall holiday theme with its Facebook page through its simplistic but festive cover photo with a consistent color scheme, coupled with the visual experience of their winter season collection in status updates.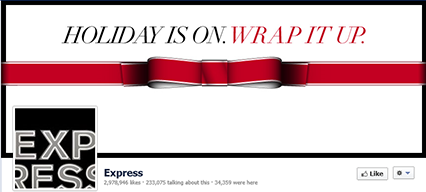 Go Competitive
Start a contest on Facebook and/or Pinterest for your brand's followers to promote customer loyalty. Create a noticeable tab on your Facebook page and link to the contest. Retail brands are leveraging Facebook and Pinterest this holiday season to generate buzz around their seasonal offerings. Gap has created a "Pin to Win" contest on their Facebook page where users are urged to pin their favorite clothing items to Pinterest, and each pin automatically enters them to win a $50 gift card.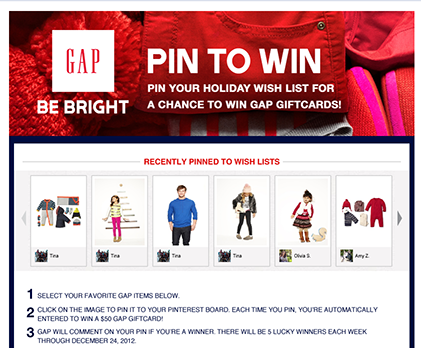 Go Generous
Make an "offers" tab on your Facebook page to share coupon codes and discounts with your followers. Brands are leveraging Facebook as the platform to promote their discounts and offers, and boost their customers' holiday cheer. Samsung Mobile USA offers their fans seasonal discounts on smartphones and phone plans through a dedicated "Holiday Offers" tab on their Facebook Page.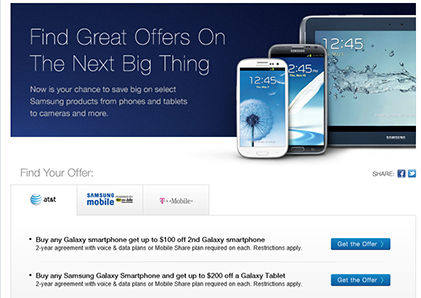 While Facebook is better for outlining details of your contest, Twitter can be a great way to promote giveaways and contests with its hashtag feature. Staples US has a giveaway on its Twitter page where followers can tweet with the hashtag #Unwrap to participate. You can follow suit by coining a specific hashtag for your followers to use, and create a contest on Twitter around it by encouraging people to post pictures or thoughts followed by the hashtag.