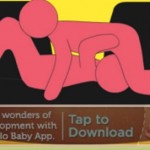 Procter & Gamble appears to have stumbled into the business of unintentional PSAs. TechCrunch caught this Pampers ad running on the "300+ Sex Positions" iPhone app. The iAd directs users to the diaper brand's "Hello Baby" app, a tool to help you track your pregnancy. Because really, nothing sets the mood quite like the thought of a wailing infant with a loaded diaper.
Digital agency R/GA then decided to weigh in on Twitter, theorizing that the Pampers strategy comes from the "exciting world of pre-targeting," in which advertisers aim for the consumers they want to convert, say, nine months from now. Thus, R/GA says it would also like to nominate Pampers for 2012's Adweek Media Plan of the Year. Having just this week announced 2011's awards, we can't comment on future prospects. But we'd venture that StrawberryFrog, which created the "Hello Baby" app, and its media partners are grateful for R/GA's vote of confidence. And as a booby prize, we can offer up the never-before-granted Media Fail of the Day award, which recognizes an outstanding job making viewers nervous and uncomfortable.
While we're handing out honors, we'd also like to grant @RGA, run by Chapin Clark, the first-ever Grand Tweet of the Day prize for providing the most insightful and pithy quip of any shop that swears it is transforming the ad industry and has a bright red logo.Update: As it turns out, Clark is on vacation this week, and Kyle Bunch is babysitting R/GA's Twitter feed. Congratulations Kyle.