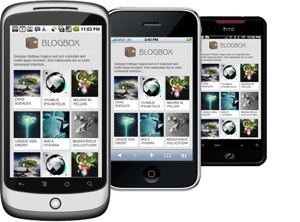 Did you know that 10% of all global web traffic can be accredited to smartphone users? According to emerging trends recognized by Gartner Inc., by next year (2013), smartphones will surpass desktop computers as web devices. What does this shift in social trends mean for consumers?
Firstly, mobile venues give customers the ability to shop at their convenience without the hassle of navigating through dense content. Secondly, smartphones have become integrated in society's daily routine so much so, that people take out their phones while performing mundane tasks such as waiting in line at the post office or shopping for groceries. This means that businesses can reach out to consumers ANYTIME and ANYWHERE through mobile devices. Thirdly, customers want to navigate companies' websites with fewer clicks due to the smaller interfaces of their phone screens, therefore smartphone users will be driven away by the lack of a mobile-friendly version of your business' website. Lastly, 1 in 5 mobile visits leads to direct calls from customers to the businesses because having "clickable" phone numbers allows users to make immediate phone calls. What this means is that mobile customers who are ready to purchase, get instant gratification by being able to connect with companies through just a click of a button.
Following a predicted rise in mobile-driven sales from $6.7 billion in 2011 to $31 billion in 2015, it's important to prepare for this rapid shift by developing a mobile version of your company's website. Here are some pointers to consider when making your website mobile-ready:
1) Ensure the site is appropriately sized so it fits comfortably onto a smaller format screen.
2) Use large and easy-to-read text.
3) Make buttons large enough so users can click on them easily with their thumbs.
4) Focus your content on what mobile users need and remove unnecessary text and images.
5) For faster website loading, compress your images and remove flash content.
Here's something to consider, three quarters of shoppers said that they would return to a company's mobile optimized site if they had a good experience with it. The same people also said that if they have bad experiences with a company's website on their phones, they would rather seek out competitors with mobile-friendly websites instead of inconveniencing themselves by switching over to their PCs.
Once you're ready to optimize your website for mobile phone usage, visit ReadyToGoMo (http://www.howtogomo.com/en/d/#homepage) which is an excellent tool for checking if your mobile site meets Google's guidelines.